Bathroom Remodeling Ideas That Will Increase the Value of your Home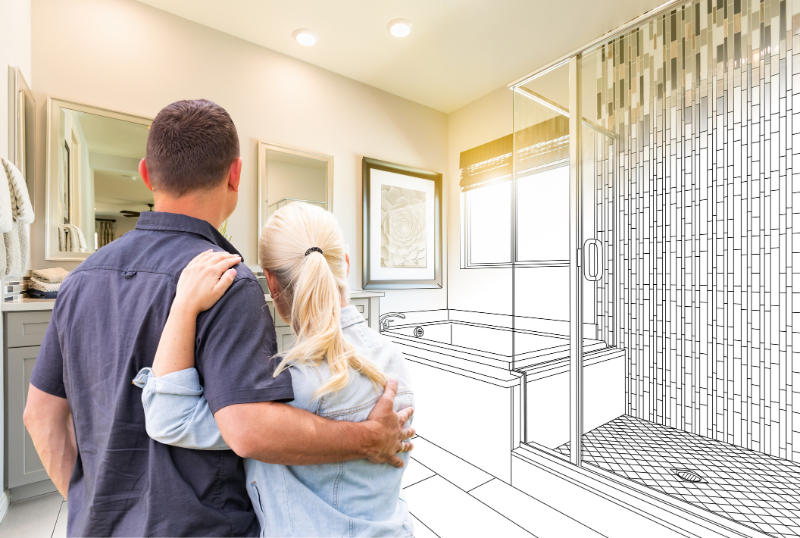 Remodeling the bathroom is one of the most popular tips for selling your home. A stylish and functional bathroom can make your home more appealing to many buyers who consider long, relaxing baths and extensive skincare routines an important part of their day.
New Tiles and Flooring

High-quality and expensive-looking tiles can enhance aesthetic appeal. Modern tiles can make a bathroom look clean and elegant. A shower area with floor-to-ceiling tiles and a gorgeous glass door can really make a bathroom stand out.

Some decorators also recommend adding accent tile to the overall design. These can be patterned or bold colored tiles that add a pop of color to classic design. Textured tiles can also improve safety by providing traction and helping prevent slips or falls.
No matter how you decide to design your bathroom, always choose durable and water and heat-resistant materials.

Double Vanity

For many couples and families with children, a double vanity is a must. Most people are in a hurry to get ready in the morning and may not necessarily want to share sink space with their loved ones. Once confined to luxury bathrooms, double vanities have become more common and highly sought-after among buyers.

Also called twin sinks, double vanities are ideal for bathrooms that are shared by two or more people on a regular basis. This can add value and appeal to the home. When installing a double vanity, it's worth investing in modern countertops, cabinetry, and faucets. An elegant double vanity can elevate the primary bathroom and make an impression on buyers.

Modern Toilets

Eco-friendly and low-flow toilets help conserve water every time you flush. These toilets appeal to buyers who want to reduce water waste and consumption. In-wall toilet cisterns and toilets with concealed tanks save space and blend into contemporary bathroom designs. When installed properly, these toilets are aesthetically pleasing to the eye.

Radiant Heated Flooring

Depending on the season, it can get cold in the Brazos Valley and every bit of heating can help provide comfort. Installing radiant heated flooring is a major upgrade worth considering when putting your home up for sale. Radiant heated floors add value to the home because it can help owners save money in the long run by making the bathroom more heat efficient in the colder months.

Radiant heated flooring is typically made of natural wood or stone, which complement modern bathroom designs. Like double vanities, heated floors were once limited to luxury bathrooms. Feeling warm after getting out of the tub or shower can be a wonderful indulgence for many buyers. But now that the cost of installation has become more accessible, more homeowners are willing to splurge.

Additional Storage

Ample storage can make even the smallest bathroom feel more organized and clutter-free. When getting your home ready to sell, consider adding some built-in shelves and cabinets for toiletries, cosmetics, and other items. Additional storage will help keep countertops more readily available for sink and mirror use. For a minor storage update, add decorative baskets and bins to help create sections inside vanity drawers and cabinets.

For a more ambitious remodeling project, include a combination of open and closed storage to the overall design. This makes it easier for bathroom users to curate their space, storing frequently-used items like hygiene products in drawers while keeping scented candles, flowers, and accessories on display.

Modern Lighting and Bathroom Fixtures

Lighting can help set the mood in any space. Warm and soft lighting can make the bathroom feel like a relaxing place while bright, optic lights can be invigorating. It's best to incorporate layered lighting, or a combination of different lighting techniques and temperatures, to create a balanced space.

In addition to creating ambience, you can use bathroom lighting to draw the eye to desirable features such as a newly glazed tub, marble vanity, or exquisite tilework. It also helps to keep functionality in mind when updating lighting fixtures. Dimmable lights are ideal for long and relaxing baths while sconce lights on both sides of the mirror will make it easier for bathroom users to check their reflection and do their makeup.

When it comes to faucets, showerheads, and other metal fixtures, choose modern and durable ones that can withstand daily use. Upgraded fixtures and accessories can help make an existing bathroom look and feel brand new.

Better Ventilation

Depending on the layout and location of the bathroom, you may want to consider updating the ventilation system or adding a window. In any case, it's important to have a type of ventilation to remove unwanted moisture in the bathroom and prevent mold and mildew. A window, in particular, can add natural lighting. Choose frosted glass for privacy.

It's also worth installing a bathroom fan if you don't already have one. This will help prevent mold and mildew while improving air quality. It also provides adequate ventilation for bathroom users who would rather keep their windows shut.
Sell your home for top dollar with Berkshire Hathaway HomeServices Caliber Realty. Their team of real estate professionals can help you get ready to sell.
Contact them at 979.694.8844 or send them a message for more information on the home selling process in the Brazos Valley.