Tips to enhance curb appeal: Front doors sell homes!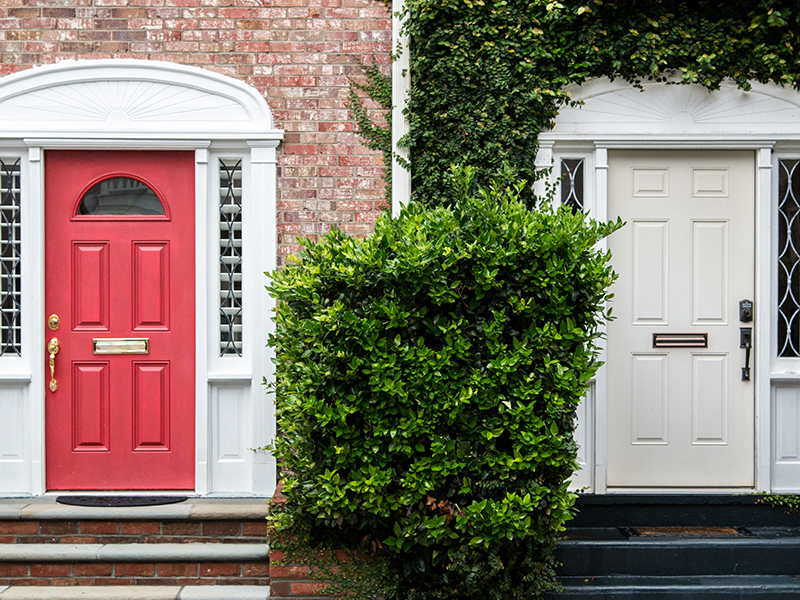 If 7% of the price of a home rests on curb appeal, how do front doors factor in the mix?
Quite a lot, it seems from a 2022 study which measured the attractiveness of a house to a buyer in terms of how much a front door was worth. For example:
On the plus side
Front doors painted black commanded the highest offer from study participants, who said they were willing to pay nearly $6,500 more than similar homes
Front doors in slate blue were the most popular among participants who would pay an average of $1,537 more on the house
On the minus side
Front doors painted pale pink were perceived to be "shabby looking" with participants saying they would pay $6,516 less for the house
Front doors in cement gray were the least popular and garnered $1,236 less on offers for the house
The study is important because it shows how far potential buyers may be willing to go for a home with (or without) curb appeal. In fact, another study shows that curb appeal was the top reason millennials (46%) and Gen Z (47%) cited for buying a house.
5 TIPS TO ENHANCE CURB APPEAL
If curb appeal in general and front doors in particular are key to making a good first impression on buyers, here are related tips for selling your home:
Give a fresh coat of paint to your front door

Get a clue from the study above or go for color combos that evoke certain emotions, according to Real Simple: eye-catching red and beige for warmth, midnight blue and wood for "tranquil balance," and teal and coral for a burst of color that's surprisingly chic and sophisticated as well.

Update your front door with new hardware

Even after you've repainted your front door, dingy, old hardware can diminish its appeal. Upgrade your house number, door knocker, and door knobs to further refresh your front door. Trending door hardware includes satin finish for durability and a modern appeal, electroplated door handles in chrome, and matte black handles that you can also purchase with door hinges, locks, and keyhole shields in the same color and finish. Make sure your hardware matches your door color and house style.

Invest in a new front door

If a fresh coat of paint, much less a hardware upgrade, can't do the job, then it's time to replace your front door. Bear in mind that in addition to curb appeal and aesthetics,  a new front door goes to the heart of issues related to security and energy efficiency. You want a front door that intruders will find harder to breach, as well as a front door that won't compromise the temperature you've set indoors. That said, there's a world of options for you to consider: arched doorways to disrupt  the severity of straight lines, peek-a-boo doors with horizontal glass panels for a sleek and stylish look, extra wide doors to suggest a more welcoming and practical entrance (making it easier to move in the bulky stuff), a rustic farmhouse style, and so much more.

Add functional and ornamental touches to your front door

You can enhance your front door in the simplest but most effective ways. Consider new lighting, adding ornamental plants to enhance the symmetry of the front door, hanging seasonal decor like wreaths, installing security devices such as a camera or a camera doorbell, adding a doormat, and laying down paving stones leading to the front door or placing solar lights on a similar pathway.

Clean your front door!

Maybe all your front door needs is a good scrub. Bring it back to life with a mixture of baking soda and water. It's cheap, it's easy, and it's effective!

SELL YOUR HOME IN TEXAS WITH BERKSHIRE HATHAWAY HOMESERVICES CALIBER REALTY

If you're selling your home in College Station, TX or anywhere in Brazos County, get in touch with  Berkshire Hathaway HomeServices Caliber Realty. We'll create a marketing plan that's tailored to your needs and goals as well as to the property itself.

Our deep familiarity with the area's historic trends and current market conditions allows us to provide complete, up-to-date, and nuanced assessments to home sellers. Even after we've sold your home, we stay in touch to make sure that you have everything you need and that all went well with your transaction.

Call Berkshire Hathaway HomeServices Caliber Realty at 979.694.8844 or contact us here to get started on finding the right buyer for your property.