The best dog-friendly places in College Station, TX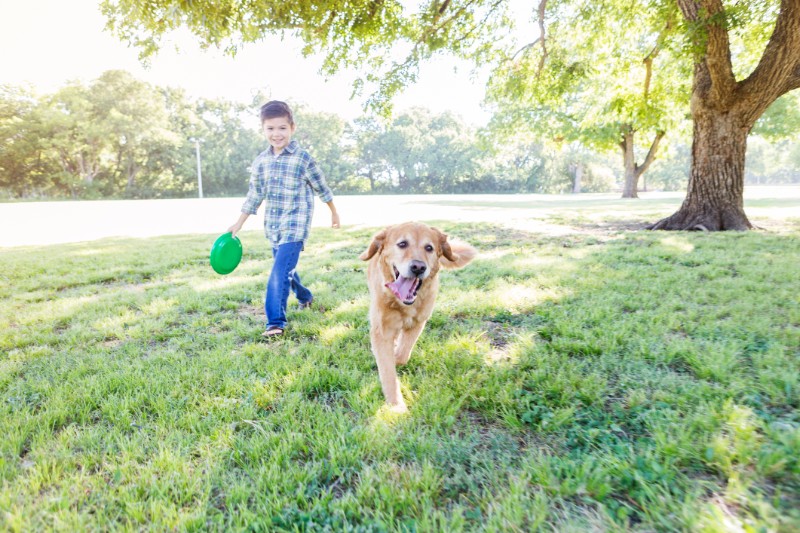 There's a wide range of things to do in College Station, TX, and your beloved pooch can come along with you! Here are some dog parks and dog-friendly restaurants you should check out.
Canine Station (University Dog Park)
300 Park Rd, College Station, TX
Located within University Park, this fenced-in, off-leash area is around four acres wide, separated into two spaces for large and small dogs. It is also surrounded by forested areas and tranquil natural spaces, making it a peaceful place to be for your pooch. Some of the amenities in this park include an agility course; small, shallow ponds for dogs to cool off; a washing station; and a water fountain.
To play at Canine Station, dogs must be older than four months and should wear their registration and vaccination tags. Female dogs in heat are not allowed in the park.
Outside Canine Station, there is a playground, running track, and picnic area where you and the rest of the family can hang out in. Dogs are also allowed in this area and other spaces in University Park if they are kept on a leash.
Lick Creek Park
13600 Rock Prairie Rd, College Station, TX
Home to densely wooded areas and a variety of native plant and animal species, Lick Creek Park is a 523-acre park that can provide many outdoor recreational activities for you, your pet, and the rest of the family.
Most of Lick Creek Park consists of untouched natural landscapes, which offers numerous opportunities to go on nature walks with your pets. You can also let your dog walk or run off-leash on the Racoon Run Trail if they are trained to understand voice commands.
Morris "Buzz" Hamilton Dog Park
4890 Boonville Rd, Bryan, TX
This 5-acre, high-quality dog park is in nearby Bryan, TX, along Highway 158 and Copperfield Drive. The whole park is sectioned off into three fenced-in play areas, two of which are for big dogs, while the third one is reserved for small dogs. Each part has shaded picnic areas and benches where you can hang out while your dog explores the agility course. Several water fountains are scattered in the area.
The Morris "Buzz" Hamilton Dog Park is also connected to the city's trail system, so you can also walk or run with your dogs along the area's gravel walking trails.
On the Border Mexican Grill & Cantina
709 Texas Ave., College Station, TX
With 11 pet-friendly outdoor tables and heated patio area, On the Border Mexican Grill & Cantina is the go-to, pet-friendly place for authentic Mexican food. Their impressive Tex-Mex menu includes everything from hand-rolled enchiladas to the house special hatch Chile burger and Caribbean mango grilled fish. The staff is also always excited to serve their furry customers with water bowls and treats.
World of Beer
425 Northpoint Crossing #700, College Station, TX
What began as a humble craft beer shop in Tampa, FL has grown to be a unique gathering place for beer enthusiasts, with franchises all over the country. One of their locations is right here in College Station, serving savory, tavern-style pub grub that range from soups and salads to burgers, steaks, and chicken wings. Some of their bestsellers include tater tot poutine, Chimay burgers, and shrimp tacos. More importantly, this branch has a pet-friendly outdoor dining area where you can hang out with your dog while enjoying a pint.
Grub Burger Bar
980 University Dr, College Station, TX
Grub Burger Bar is a casual eatery known for "making good food, served by good people, for good people." It was founded by Jimmy Loup, who opened the very first Grub in 2012 here in College Station, TX. While its market now stretches from East to West Coast, the original Grub Burger Bar continues to serve flavorful burgers and American comfort food to the students and residents of College Station.
You can even enjoy Grub's infamous Lockhart Legend burger – which has applewood smoked bacon, cheddar cheese, and Dr. Pepper BBQ sauce – and Jive Turkey burger – a ground and pesto-seasoned turkey burger topped with bacon, Swiss cheese, sprouts, avocado, and Chipotle Aioli – with Fido at their charming outdoor dining area.
With its wealth of dog-friendly parks and spaces, living in College Station, TX is great for both humans and animals. If you want to know more about buying or renting a home in the area, get in touch with the experts at Berkshire Hathaway HomeServices Caliber Realty today! Call now at 979.694.8844 or send an email to sales(at)bhhscaliber(dotted)com.