Lighting ideas to brighten up your kitchen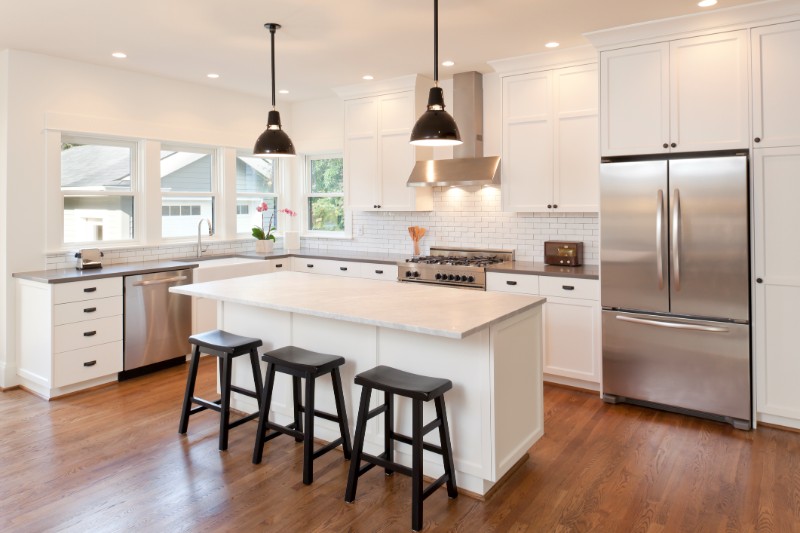 The kitchen is the usual epicenter of daily family gatherings, as well as the main area of the home where everyone gets their regular food intake. With meal preparation done here, it's essential for this area to be well-lighted.
But more than just illuminating the kitchen, lights in this living space also serve to add to the overall aesthetics of your home.
From glamorous and dramatic chandeliers and sculptural light fixtures to fun sconces and understated light strips, here are our favorite lighting ideas that will turn your kitchen into a more efficient workspace and help you see it in – forgive the pun – a whole new light.
LAYER YOUR LIGHTS
In interior design, lighting falls under three categories: task, ambient, and decorative. Proper usage and distribution of all three lighting types could easily transform your kitchen from looking clinical to cozy in an instant.
To give your kitchen that homey yet chic look, make sure to layer your lighting properly. You can do this by identifying which main task light to use and then getting ambient and decorative fixtures that would complement it. This will help you achieve a visually harmonious and comfortable space that you and your family will want to spend more time in.
GO BOLD
When thinking of main task lights to put in your kitchen, don't limit yourself to standard, built-in fixtures. Instead, try using a standout piece like a bold-shaped chandelier or pendant light fitted with bright bulbs. Not only will it give your space the illumination it needs but it will also provide a distinct and fashion-forward focal point in your kitchen. Note, though, that large chandeliers and pendants should be hung high enough to avoid overwhelming any elements placed beneath them or hitting heads.
EMBRACE COLOR AND TEXTURE
If your kitchen isn't big enough to accommodate lighting fixtures as elaborate as a chandelier or pendant lights, try playing around with colors and textures instead. One way to do this is by using a dyed wicker basket as a lampshade. This lighting accent could provide pops of texture and color to your kitchen without taking up too much space.
ODD OVER EVEN
When installing light fixtures in your kitchen, make sure to group them in odd numbers, preferably in trios or fives. According to interior design experts, things arranged in odd numbers appear more appealing and memorable to the eye than even-numbered groupings.
DELINEATE ZONES
If you have an open floor kitchen, try to divide it into "zones" with the use of different lighting setups. For instance, you could use wall-mounted swivel lamps to separate the prep zone from the dining area, which you can then highlight with an oversized pendant.
MIX AND MATCH STYLES
Another trick to brighten up your kitchen is to mix and match different styles, such as using woven lampshades in a modern and sleek space or adding Asian-style lanterns to a Mid-century Modern kitchen. This unexpected mishmash of styles allows the eye to wander among the different elements showcased in the kitchen and keeps it visually stimulating.
LIGHT YOUR SHELVES
If your kitchen has open kitchen shelving, try installing concealed dimmable lights inside the cabinets. That way, it becomes easier for you to rummage through your pantry and dishes. In addition, installing lights on your open shelves essentially transform your shelves into showcases for pieces such as delicate china and special crystalware, thus adding another decorative element to your kitchen space. You could also install lights underneath base cabinets to illuminate the floor for those times when you need to sneak into the kitchen in the dark for a midnight snack.
HEAVY METAL
You can never go wrong with adding touches of metal (or metals) into your home. Not only are metal light fixtures sturdy and long-lasting but they are also incredibly stylish. Brass, for instance, can bring a warm, vintage, and rustic touch to any kitchen, whereas brushed metal can give it a glamorous and contemporary feel – both of which are big in the commercial real estate scene in College Station.
For more great home design advice and other matters concerning residential or commercial real estate in College Station, TX, come to the experts: Berkshire Hathaway HomeServices Caliber Realty. We are the go-to team for buyers, sellers, and property investors in this vibrant city. With more than 40 years of experience in the industry, we employ client-focused strategies to ensure success in every real estate transaction.
Ready to start looking for your next home in College Station? Call our team at 979.694.8844 or email us here to get started.