Let's Make a Deal: How to Write a Winning Offer Letter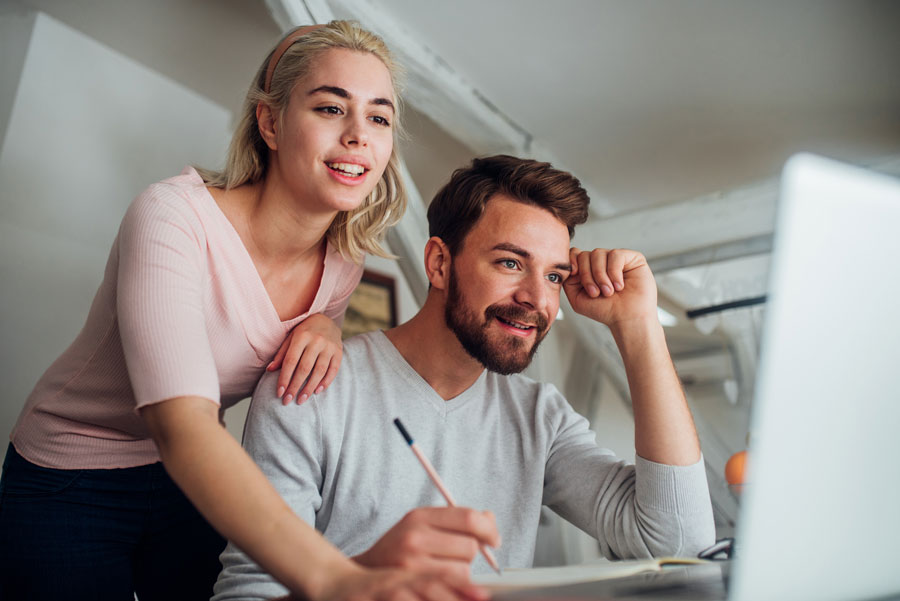 Buying a home in a competitive market can be tough – but there are several ways to tip the scales in your favor. You can offer to buy in cash, remove certain contingencies, or write a strong offer letter.
Writing an offer letter gives you the opportunity to tell the seller why you want to buy the home and why they should accept your offer. It can resonate with the seller if done well. It can appeal to their soft side, and help them understand why you're the perfect buyer. However, make sure your letter does not reveal information that may contravene the Fair Housing Act. Consult your agent about this.
Here's how to make an offer letter a seller can't refuse:
DO introduce yourself
Start your offer letter by addressing the seller by their real name. It helps you stand out from the other offers that often open with the generic, "Dear Seller." Ask your agent for the seller's full name.
Then, introduce yourself and tell the seller why you're looking to buy a home. This creates a connection with the seller and allows them to visualize who you are.
DON'T give out too much personal information
Although it's important to establish a personal connection with the seller, avoid oversharing. Don't include photos of you and your family, even if you hear otherwise.
Don't include the particulars of your finances, as well. While you may say that you've been pre-approved by a lender, there's no need to go into details. When it comes to sharing personal details with the seller, always remember that less is more.
DO say why you love the home
After looking through the listing photos or taking a virtual tour, note down things that caught your eye. What did you like about the home? What were the features that stood out? Whether it's the home's prime location or the large backyard, let the seller know why these features were especially memorable.
It also helps to find common ground. Do you have any pets or hobbies that are similar to the seller's? Talking about it in your offer letter could help the owner relate to you. For instance, let's say you notice a dog house and dog toys in the yard, let the seller know why their home is the right fit for your own four-legged friend.
Be careful not to overdo it, though. Gushing about the home can leave the impression that you aren't genuine.
DON'T mention how you would change the home
It comes as no surprise that sellers have an emotional attachment to their homes. And when you bring up your home remodeling plans, it could hinder your chances of getting your offer chosen. Avoid mentioning the aspects of the home you weren't keen on. Focus on its positive features instead.
DO keep it short and sweet
While a seller will be curious about who you are, they'll lose interest if your letter just goes on and on. Do say why you're the best person to own their home, but don't go into long-winded explanations. The seller may have other offer letters to read as well. Limit your letter to one page.
DON'T sound desperate or pushy
Even though the point of an offer letter is to persuade, it should never take on a desperate or pushy tone. If you sound desperate, it may tell the seller that you're willing to pay more. Sounding pushy, on the other hand, will only turn off the seller.
When you write your offer letter, keep your tone friendly, genuine, and heartfelt. You want to show the seller that you're cordial and trustworthy.
DO end the letter strong
If your letter starts strong, it needs to end strong as well. Reiterate why you are the buyer to choose and don't forget to thank the seller for their time.
For more tips and tricks on buying and selling a home, enlist the help of an experienced real estate agent. Connect with an agent from our Berkshire Hathaway HomeServices Caliber Realty team by calling 979.694.8844. Feel free to send a message here as well.
We are one of the top brokerages in Central Texas, armed with centuries of combined real estate experience and a diverse listing portfolio. Berkshire Hathaway HomeServices Caliber Realty specializes in just about every aspect of residential and commercial real estate in the Bryan-College Station area and its surrounding counties.
We have netted top awards from the Brazos Valley community, including the prestigious Newman 10 Award for small business growth. These honors are testament to our dedication to customer satisfaction.