Why you'll want to buy a ranch-style home in Texas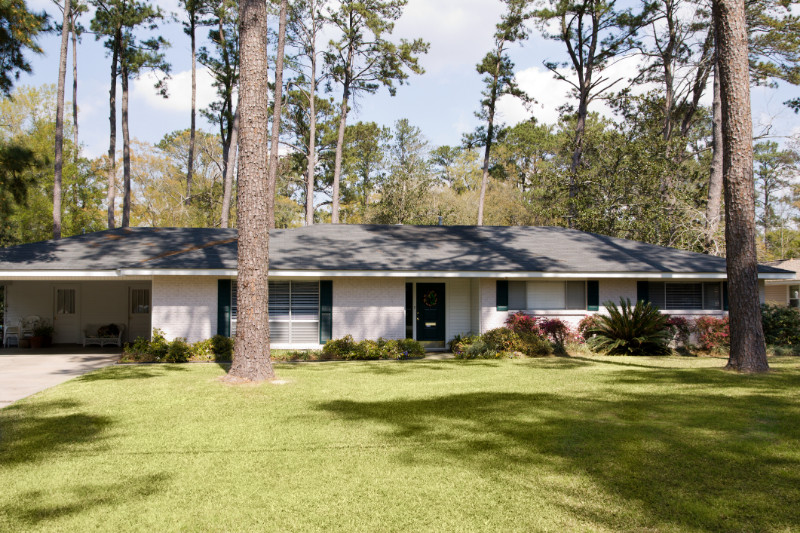 One of the best things about residential architecture in the US is the great variety of styles, and none is as iconic as the ranch-style home. And throughout the Lone Star State, you'll find many fine specimens of this proudly American architectural style.
How the ranch home came to be
The ranch-style home finds its origins in 1930s California. It was loosely based on two styles that dominated the state in the early 20th century: Spanish Colonial and Craftsman. Designers took the single-story, open-floor layout of these styles and adapted it to the times. The end result is a home with a wide open layout in an L o U shape, lower profile, and an attached garage, all of which allowed for indoor-outdoor living.
Post-war America was the period when ranch-style homes became popular because the design was simple, easy, and spacious. And while this style is hardly considered the trendiest today, there is still a sense of nostalgia surrounding the ranch home. and a sort of movement has arisen with the aim of preserving ranch homes throughout the country. Just a couple of years ago, ranch-style homes surpassed styles like Craftsman and Farmhouse in popularity. Part of their appeal is their lower price compared to other styles.
One style, different looks
As ranch homes became increasingly popular in the 1950s and 1960s, more sub-styles were created. Some of the most common include:
California ranch, which showcases some Spanish Colonial influences. These homes are considerably more decorative than other types of ranch-style architecture.

Split-level ranch has two to three levels instead of one. These homes are typically raised from street level and embrace function over design.

Suburban ranch, which may be the most common form of ranch-style homes. This style has come to define American suburbia because of its clean and simple design, which can be easily replicated across the country. These homes are usually the smallest among all ranch-style homes.

Storybook ranch, which reached peak popularity in the 1920s and 1930s. These residences are reminiscent of fairytale cottages and can be ornate like the California ranch. But instead of being inspired by Spanish Colonial architecture, Storybook ranch favors baroque designs.
FOUR REASONS TO LOVE RANCH-STYLE HOMES
Here are a few reasons why you might want to consider looking at ranch-style homes in Texas.
They bring in a lot of natural light indoors. Expansive windows are among the key features of the ranch-style home, which also typically feature sliding doors that open out into the patio or garden. And if your property is located in a particularly scenic area, you'll get to enjoy incredible views every day.

They can grow old with you.Single-story ranch-style homes are ideal for those with limited mobility. They don't have extra floors and stairs that will pose a challenge to residents as they get older.

You get a respite from the heat. The wide eaves typically associated with ranch homes are particularly suitable for shielding your windows against the summer heat.

It allows a lot of flexibility. Because of its open-floor layout, it's totally up to you to decide how you're going to utilize the space. You can keep the rooms as they are or add divisions as you see fit to designate certain areas for a particular purpose.
Ranch-style homes are enjoying something of a boost because of nostalgia, especially among younger people who didn't grow up in one. Meanwhile, some older buyers want to recapture what life was like when they lived in a ranch home.
Because of this growing demand, your choices aren't limited to resales; there are only ranch-style new construction popping up in Texas all over the country. These feature the essential elements of a ranch-style home as well as modern creature comforts such as energy-efficient features, sustainable materials, and a few luxury amenities, depending on the builder.
IS A RANCH-STYLE HOME FOR YOU?
When you're in the process of buying a house in Texas, it's always important to consider what you and your family's needs and wants are.
A ranch-style home can be a good option for you as it can provide you with enough space to accommodate your lifestyle, as well as additional room so you can explore different hobbies and interests. And should you wish to expand, the straightforward layout of a ranch home can easily be improved.
When finding a ranch-style home for sale in Texas, it's always a good idea to talk to your real estate agent and specify exactly what you're looking for. Get in touch with Berkshire Hathaway HomeServices Caliber Realty at 979.694.884 or send an email.